About Portland Blasting: We stand alone as the most comprehensive industrial cleaning company in the Northwest!
Give us a call today to schedule a free demonstration!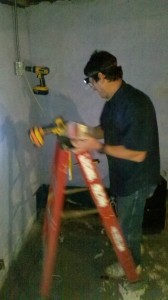 Portland Blasting is a division of PureSpace, and provides thorough and complete property restoration and industrial cleaning services in Oregon and SW Washington. We bring the very latest in nontoxic products and technologies to restore equipment and buildings to their original luster without leaving harmful residue or an unsightly mess to clean up. We specialize in mold prevention and removal, odor elimination, restoration from fire and water damage, industrial cleaning and coatings removal.
We're proud Portlanders with a dedicated staff that's second to none. Read on to learn more about us!
Matt Ballou – President
Matt has been a key part of Portland Blasting's parent company, Global Prevention Services, in many different capacities. Before joining the team he worked in the restoration and building industry in sales, management and operations. He has owned and operated the Portland branch of Global Prevention (Portland Blasting) since 2010.
Matt is a graduate of Grand Canyon University in Phoenix, where he met his wife, Cherise, in 2001. After nearly a decade in the desert, the couple decided to open a branch office of PureSpaceupon returning to the Northwest in 2009. Cherise manages a no-cost children's tutoring program for at-risk) youth.
An admitted sports nut, Matt volunteers as a high school basketball coach as an assistant to his dad, Norm. When he's not otherwise engaged in removing mold or cleaning industrial sites, he enjoys weekend fishing trips to Central Oregon and Montana.